Behind The Brand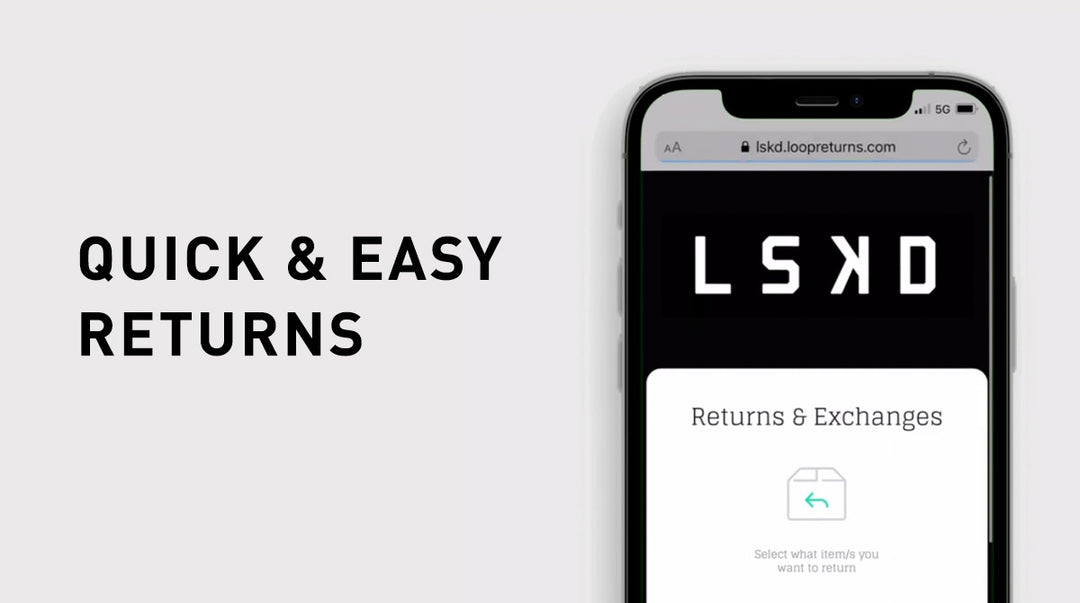 Online shopping is easy, so returns should be too! We all know the feeling of waiting for your new purchase in the mail, then finally opening it up and discovering its not quite what you wanted.
The team here at LSKD have been working on our returns and exchange process to offer the best experience for our community so here it is:
30 Day Free & Fast Returns
60 Day Instant Exchanges
HERE'S HOW…
So you have your eyes on some new LSKD product.
If you are worried about what sizing will be like we recommend buying two garments and sending one back.
When you purchase before 5pm we ship same day so your gear gets to you quickly, you can try on both sizes and send back the size that doesn't fit.
From here you have two options…
Return the product for a refund
Shop now with the value of the product you are about to return!
60 DAY INSTANT EXCHANGES
Don't stand around waiting on the post office.
With our 60 Day Instant Exchanges you can 'Shop Now' on lskd.co with the value of your returned product before you have even sent your old garment back!
Once you have decided on your new products you can choose to authorise a $1 charge on your credit card to have your new gear sent out straight away. (Just make sure you send the old items back within 14 days when you have a sec.)
If you aren't keen on the $1 credit card authorisation, thats cool too. Just drop your old items at the post office and we will get you new gear on its way out to you.
You are then given a free shipping label (Aus, NZ, US) to return your old product (or simply get the post office to scan the code straight off your phone, no printer needed!)
Just like that.
30 DAY FREE RETURNS
If you aren't looking to switch something out and just want a straight forward return, that's easy too.
Just follow the prompts on the video above/below and act within 30 days of purchase for a free and fast refund.
We are online only but we still care about our community.
We want your experience with us at all points along the journey to be seamless and joyful, so you can focus on chasing the vibe.
Reach out to our crew or hit the FAQ page here if you have any questions team!
---